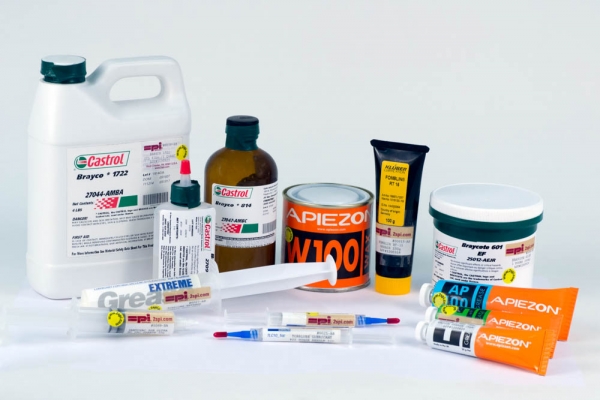 Vacuum Products and Pumps
The world has a number of different pump manufactures but we feature the two we consider the very, very best. SPI Supplies also offers a wide variety of products for use in vacuum applications.
Mechanical Pumps: Pfeiffer and Leybold used with our Plasma Prep etchers and coater systems.
Diaphragm Pumps: 927 and Gast used with our Spin Coaters and Vacuum Desiccators.
Pump Accessories: Oil mist filters, foreline traps, parts and kits.
Vacuum greases and lubricants: Braycote, Apiezon, Nye, Kluber, Santovac, MOLYKOTE (formally Dow), Torr Lube and others.
Grease removers: Used in the cleaning of many of these greases, these may be found in the Solvents section of our website: Galden, EnSolv, Braycote.
Vacuum Fluids: Synthetics such as Santovac, and Fomblin as well as hydrocarbon fluids for mechanical pumps are available.
Leak Sealants: The Vacseal Leak Sealant line of products is known worldwide for its ability to treat leaks in high vacuum systems. Aerosol and brush on formulations available.
View Ports: Kodial Glass with various coatings.
Subcategories in Vacuum Products and Pumps
Items in Vacuum Products and Pumps