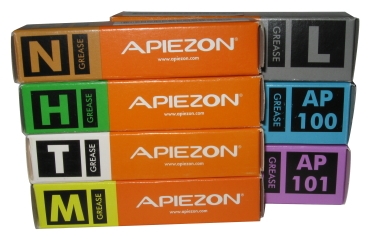 Apiezon Vacuum Greases
General Comments:
The Apiezon family of high vacuum greases are known the world over for their high quality, consistency and excellent compatibility for high vacuum applications. Extensive on-line technical information to help in the selection of the proper lubricant is available on-line for all featured Apiezon products. Most of the Apiezon greases are free of both halogens and silicones, free only of silicones or contains micronized polytetrafluoroethylene (PTFE). In summary the Apiezon greases are silicone and halogen free, most made of pure hydrocarbon materials.
Applications in electron microscopy:
In electron microscopy the Apiezon M grease is the most widely used. Those wanting the cleanest vacuum systems possible should select the more premium type product Apiezon L. Since all of the Apiezon greases are silicone free there is never a risk of Si contaminating the microscope column which could result in "seeing" Si being detected in all x-ray spectra.
White Paper: A comparison of hydrocarbon and silicone vacuum greases.
Items in Apiezon Vacuum Greases