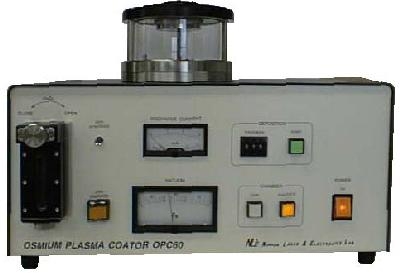 Osmium Coater
Overall comments about OPC-60A Osmium Plasma Coater
The OPC-60A is designed to be an all-automatic osmium coater, using osmium tetroxide as the source for the osmium. It can not coat anything else and the automatic nature of the design means that large numbers of samples can be coated in relatively short periods of time. The cost per run is really in the realm of being "negligible" since a 0.1g ampoule could be enough for 10-15 runs depending on the thickness being deposited. And because of the automatic operation and design, it is not possible to coat with carbon. For carbon coating, one must consider the OPC-80T.
Sample Stage Options: Select between holes to accommodate (choice of one)
9.5 or 10 mm diameter cylindrical SEM mounts, 7 positions, or
15 mm diameter cylindrical SEM mounts, 4 positions, or
32 mm diameter cylindrical SEM mounts, 1 position
For coating "pin type" SEM mounts, one must use an adapter mount appropriate for the size of the pin mount to be coated.
Note: The previous model, the OPC-60N was smaller and could accommodate, in comparison, one of the following:
9.5 or 10 mm diameter cylindrical SEM mounts, 4 positions, or
15 mm diameter cylindrical SEM mounts, 4 positions
Click here to watch a video on Osmium Plasma Coater Model OPC-80T