Osmium Plasma Coater OPC-60A Automatic Operation for Osmium Deposition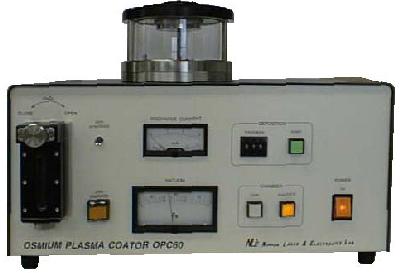 Osmium Plasma Coater OPC-60A Automatic Operation for Osmium Deposition 100v/60 Hz

Osmium Plasma Coater OPC-60A Automatic Operation for Osmium Deposition 220v/50 Hz
Osmium Plasma Coater OPC-60A Automatic Operation for Osmium Deposition 100v/60 Hz
The OPC-60A is designed to be an all-automatic osmium coater, using osmium tetroxide as the source for the osmium. It can not coat anything else and the automatic nature of the design means that large numbers of samples can be coated in relatively short periods of time. The cost per run is really in the realm of being "negligible" since a 0.1g ampoule could be enough for 10-15 runs depending on the thickness being deposited. And because of the automatic operation and design, it is not possible to coat with carbon. For carbon coating, one must consider the OPC-80T.
Sample Stage Options:
Select between holes to accommodate (choice of one):
9.5 or 10 mm diameter cylindrical SEM mounts, 7 positions, or
15 mm diameter cylindrical SEM mounts, 4 positions, or
32 mm diameter cylindrical SEM mounts, 1 position
For coating "pin type" SEM mounts, one must use an adapter mount appropriate for the size of the pin mount to be coated.
Note: The previous model, the OPC-60N was smaller and could accommodate, in comparison, one of the following:
9.5 or 10 mm diameter cylindrical SEM mounts, 4 positions, or
15 mm diameter cylindrical SEM mounts, 4 positions
The OPC-60A is an improvement over the OPC-60N in terms of a larger sample coating area as well as a more robust electronics.
Warranty:
One year, parts and labor
Installation:
Like with other systems manufactured and distributed by SPI Supplies, our philosophy is to design a system in a way that, with good set up instructions, a user can literally take it out of the box, follow some easy set up instructions and be on his way in a few hours, all without the need for a costly service engineer to be present to do this for the customer. Our in-house technical people are skilled in the use of both the OPC-60A and the OPC-80T and our in-house service staff have received training from the manufacturer so that a high level of technical support can be provided from our world-wide headquarters in suburban Philadelphia, PA USA.
Installation requirements:
Nothing really special is needed in the way of power requirements, cooling water is not needed, however, the unit should be placed on a solid table top surface during operation. Also a conventional rotary vane ("mechanical") pump is needed, as indicated below. We price the system without the pump since so many of our customers have extra pumps around their laboratories.
Does the unit have to be operated in a fume hood?
Everyone seems to live in a world where we use "over kill" to protect us from the lawyers (at least here in the USA). The operating manual recommends that the entire unit we operated only in a fume hood. And officially, that is our recommendation. However there are a number of reasons why this is probably another good example of "over kill".
Power requirements:
100/110volts 50/60Hz 10 amps
220/240volts 50 Hz 5 amps
Power Consumption: 1 KW
Dimensions:
Front dimension (Width): 48 cm
Depth: 42
Height (without chamber): 26
Height (with chamber): 41