Plasma Prep RIE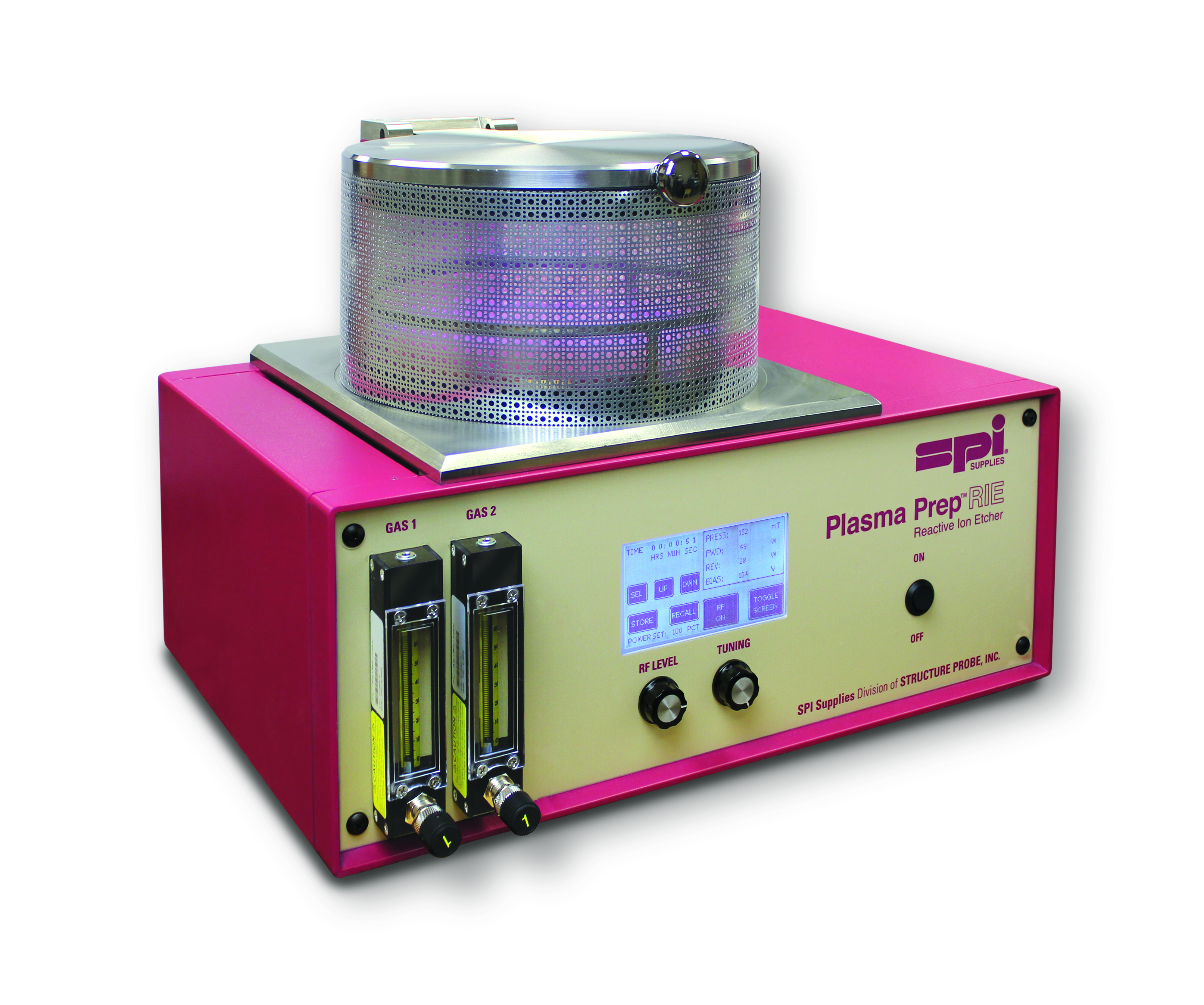 The SPI Supplies Plasma Prep Reactive Ion Etcher (RIE) is a table-top plasma chemistry reactor designed to provide anisotropic etch plasma technology at a moderate cost. This simple-to-operate instrument can perform repeatable plasma chemical reactions with a minimum of automation. All controls are manually entered into and monitored by a touch-screen interfaced control system which is equipped with automatic monitors and interlock controls to protect the equipment and the samples in the reactor.
The Plasma Prep RIE requires cooling of the stage. A simple water recirculator is typically sufficient for this task. A small water chiller option is also available for this system. Vacuum is supplied by an external mechanical pump. An integrated turbo pump option is available for this system.
Introduction to Anisotropic Etching:
Wet etching of samples is not only dangerous, in many cases it causes undercutting due to the isotropy of the etch. The Plasma Prep Reactive Ion Etcher (RIE) uses dry etching to create an anisotropic etch - meaning that the etch is uni-directional.
For laboratory applications, the typical plasma etcher has a "barrel" design, or in other words, a cylindrical or barrel geometry to the reaction chamber. One feature of this design is that any point on the surface to be etched can be approached with equal probability from all directions, leading to an etch that is described as being "isotropic". For most if not many applications generally, an isotropic design is probably the design of choice. But in some instances, such as the removal of a passivation layer from an electronic device, isotropic etching always results in undercutting, and when the lines are below a certain point in width, such processing completely undercuts the lines leading to the layers literally falling off. But because for a "barrel" design, one can achieve respectable etch rates at relatively low power, the systems can be built and sold at lower prices.
Typical Applications:
Final package removal
Glass passivation layer removal
Deep etching
Removal of contaminants
RIE System Specifications:
Table top design
LED touch screen for ease of use
Small footprint: 15" L X 21" W X14" H
13.56 MHz RF Plasma
110/240VAC, 50/60Hz
10 to 200 Watts continuous power
Dual gas input
Manual gas and pressure control
Process timer for reproducible runs.
Shielded Quartz chamber
Chamber size 10", 8" sample stage
Works with O2, CF4, Ar and other gasses
Optional Turbo System and controller
75 lbs
System Includes:
Plasma Prep Reactive Ion Etcher
Quartz Chamber
Vacuum hose
The Plasma Prep RIE does need a water circulator to operate. One is not included with the system. A simple water circulator will be sufficient for most short-term applications. We would suggest that a small water chiller is used which will provide a reliable flow of cool water, such as the Ultra Compact Chiller. We would recommend the Pfeiffer Vacuum Model DUO 10M Rotary Vane Pump for this system. For turbo systems, no additional pump is needed.
For general cleaning or etching of samples, where orientation is not critical, we would recommend our Plasma Prep III. For larger samples, 4" to 7" in diameter, or samples where a parallel plate design is needed, we would suggest our Plasma Prep X system.