SPI Supplies Plasma Prep III Etcher, Solid State Design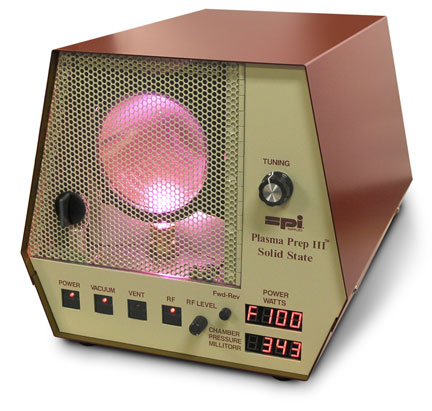 SPI Supplies Plasma Prep III Etcher, with Pyrex or Quartz Chamber options.
The Plasma Prep III RF plasma-based unit is a compact tabletop design with ease of use to deliver the 1 to 100W system performance. Furthermore, the small footprint allows the system to fit neatly in most any laboratory environment.
Features:
Flexible range. Capable of 1 to 100W operation
Greater stability
Reproducible conditions.
Same small footprint as the PP II (10.5" H X 14.75" W X 12" D measurements)
Integrated vacuum gauge
Measurement and adjustment of forwarding and reverse power
Digital metering
110/220V compatible
4" diameter x 6" depth Pyrex or Quartz Chamber
Who would use this system?
The basic functions and use of the Plasma Prep III are identical to that of the long selling RF tubed based PP II system. For those users who have long process times (in terms of tens of hours to days), the solid-state unit provides for excellent stability so that the user can run the system overnight without concern about a change in operating conditions.
For those with or looking at multiple systems, the PP III allows easy adjustment of system conditions so those units in the same laboratory or even those in different locations can be run in a similar fashion. Of course, there still remain a number of external variables that may affect these systems including gas and gas pressures and the difference in line voltages.
Pyrex or Quartz Chambers?
The selection of the chamber material is typically based on the intended process gas to be used. Pyrex is used in most cases when running gasses such as oxygen, argon, nitrogen or air. These gasses do not attack the Pyrex glass. The use of gasses such as carbon tetrafluoride (CF4) or trichloromethyl (CCl3) does produce free radicals that will etch Pyrex so in those cases we suggest using a quartz chamber.
The PP III operates at 13.56 MHz operation. It is CE Certified and RoHS Compliant. The PP III has one gas input through an optional process controller is available. Many gasses and gas mixtures may be used including oxygen, argon and carbon tetrafloride. Quite a bit is known about what plasma chemistry is needed to etch different materials (see manual for details).
The unit can quickly be set up in your laboratory. You will need a mechanical pump. Should you need a pump, we recommend the Pfeiffer Vacuum Model DUO 3, 2-stage mechanical pump. Add your tank of process gas, a two-stage regulator and hosing to the gas inlet and you are ready to run your system.
Click here to watch a video on the operation of the SPI Plasma Prep™ III Plasma Etcher