Braycote Micronic 601EF High Vacuum Grease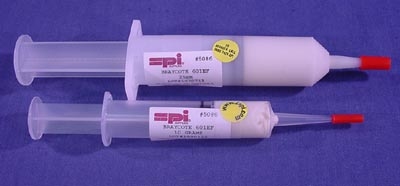 Braycote Micronic 601EF High Vacuum Grease, 1 lb (454g)
| | |
| --- | --- |
| Size | 1 Pound (454 g) |
| Item | 05116-AB |
| Availability | In Stock |
Braycote® Micronic 601EF High Vacuum Grease
The Braycote® Micronic® 601EF high performance vacuum grease has been reformulated for manufacturing under more "environmentally friendly" circumstances and therefore carries the "EF" next to the product designation. Virtually all users should find the new Micronic 601EF to be indistinguishable from the original Braycote Micronic 601. One would find the Micronic 601EF form of the product to be somewhat smoother and more homogeneous than the non-Micronic form of the product. Be sure you are familiar with the broader range of these unique fluorocarbon based grease products for vacuum applications.
Braycote® Micronic® 601EF features excellent resistance to fuels and oxidizers. It has a useful temperature range of (-80°C/-112°F to +204°C/399°F) and it also features good low torque capabilities.
Corrosion preventative present:
Braycote Micronic 601EF contains sodium nitrite as a corrosion preventative. Braycote Micronic 600EF does not contain this corrosion preventative and this is probably the biggest difference between 600EF vs. 601EF. We point this out for those intending use in environments that should be "sodium free". If your application requires a sodium free grease, we would recommend Braycote 600EF or Braycote Micronic 1613 which do not have such an additive present. The Braycote Micronic 1613 has the smallest particle size of the PTFE thickener and might be more desirable for some applications for that reason.
Some other characteristics:
Evaporation Weight Loss, %: 0.52 (30 hours at 204°C/399°F)
Base Oil
Vapor Pressure (torr)
| | |
| --- | --- |
| 20°C | 4x10-13 |
| 100°C | 3x10-9 |
| Viscosity at -40°C/-40°F: | 6500 cSt |
Oxygen Index
LOX Pass and Oxidation Bomb Test results using ASTM D942 at 100° C:
Pressure drop:
1 psi at 100 hours
4 psi at 500 hours
Thermal Conductivity:
-35° C 0.15 W/m K
75° C 0.21 W/m K
Vacuum Stability Test:
Per E595 NASA SP-R-0022A
24 hours, 125°C (257°F), 10-6 torr
Total Weight Loss (TWL), % wt. 0.39
Volatile Condensable Material (VCM), % wt. 0.03
Compatibilities:
The product is compatible with most plastics, metals and rubbers. Extensive information is available about chemical resistance to various chemical species for perfluoroether lubricants, but not specifically for Braycote Micronic 601EF.
However, as is always the case when selecting a vacuum grease, you have to do your own testing to make certain that would be the correct situation in your specific case.
NGLI Grade: 2
Removal of unwanted grease from grease applied surfaces:
The composition of this product is a mixture of small PTFE particles (which won't dissolve in anything) and a perfluorinated polyether liquid. We have found that Castrol® Fluoroclean™ HE is an effective solvent for the liquid component of the formulated composition and aids in the removal of the grease from places where it is no longer needed or wanted.
Packaging:
Syring-style packaging is used for the 2 oz product unit.