Braycote Micronic 803 High Vacuum Grease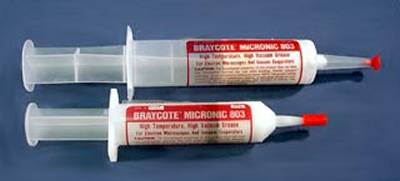 Braycote Micronic 803 High Vacuum Grease, 10g syringe [CofC not available]
| | |
| --- | --- |
| Size | 10 g Syringe |
| Item | 05042-AB |
| Availability | In Stock |

Braycote Micronic 803 High Vacuum Grease, 56g (2oz.) syringe
| | |
| --- | --- |
| Size | 56 g (2 oz) Syr |
| Item | 05045-FA |
| Availability | In Stock |
Braycote® Micronic® 803 High Vacuum Grease
The Braycote Micronic 803 high performance vacuum grease has been reformulated and is available once again from SPI, this is the high quality lubricant of choice for users desiring the ultimate cleanliness in their vacuum systems, such as those using LaB6 filaments. SPI is now adding the entire range of Braycote greases to the SPI product line, so if you have vacuum questions, let SPI help you with the right vacuum grease solution. Be sure you are familiar with the broader range of these unique fluorocarbon based grease products for vacuum applications.
Braycote Micronic 803 features excellent room temperature outgassing characteristics and high temperature stability (-63°C to +260°C) and is also acceptable for use in clean rooms. Coefficient of friction is 0.06 as measured by ASTM Method D2266. With a perfluorinated polyether grease, such as Braycote Micronic 803, "O"-rings need not be lubricated as frequently. The product is packaged in easy-to-use syringes.
Lower cost alternative:
Braycote 1632 is also available as a more economical alternative to 803 but it has not been final filtered to remove all particulates larger than 1 µm, therefore we would not recommend its use in clean rooms. Also, we would recommend Braycote Micronic 803 for electron microscope applications as well. The recommended temperature range of use for Braycote 1632 is -40°C to +232°C.
Applications in space:
We are often times asked about the suitability of Braycote Micronic 803 for use in space. Actually, from a historical perspective, the product was originally developed under contract from NASA for that specific application. In 1978, NASA (GSFC 9491) did make some measurements on Braycote Micronic 803 with the following results: TML 0.24%, CVCM 0.13%, and WVR 0.00%.
For the uninitiated, these terms have the following meanings:


Total Mass Loss (TML):
The mass loss of the sample, determined from the weights before and after the 398° K exposure, expressed as a percentage. Generally speaking, NASA considers "low outgassing" materials to have TML's of <= 1.0 %.
Collected Volatile Condensable Material (CVCM)
The difference between the weight of a clean collector and of the collector having condensed materials will provide the mass of condensables. NASA considers low offgassing materials to have CVCM values of <= 0.10 %.
Some other characteristics:
Evaporation Weight Loss, %: 2.4 (22 hours at 204°C/399°F)
| | |
| --- | --- |
| Base Oil | Vapor Pressure (torr) |
| 20°C | 1x10-10 |
| 100°C | 1x10-7 |
NGLI Grade: 2
Removal of unwanted grease from grease applied surfaces:
The composition of this product is a mixture of small PTFE particles (which won't dissolve in anything) and a perfluorinated polyether liquid. We have found that Castrol Fluoroclean™ X100 or Castrol Fluoroclean HE is an effective solvent for the liquid component of the formulated composition and aids in the removal of the grease from places where it is no longer needed or wanted.