Apiezon M High Vacuum Grease, Silicone & Halogen Free, CAS #8009-03-8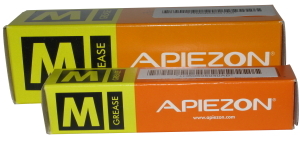 Apiezon M High Vacuum Grease, Silicone & Halogen Free, 25g, CAS #8009-03-8
| | |
| --- | --- |
| Size | 25 g |
| Item | 05040-AB |
| Availability | In Stock |

Apiezon M High Vacuum Grease, Silicone & Halogen Free, 100g, CAS #8009-03-8
| | |
| --- | --- |
| Size | 100 g |
| Item | 05041-AB |
| Availability | In Stock |
Apiezon Type M Vacuum Grease is a good and economical high-vacuum grade lubricant. Initial pumpdown characteristics, at room temperature, are excellent. This is clearly the world's most widely used vacuum grease in electron microscope laboratories including use in both the electron microscope itself and the ancillary vacuum evaporator equipment. However, being completely hydrocarbon based completely free of silicones and halogens, there is some contribution to column contamination. Vapor pressure 2x10-9 torr at 20° C. Not intended for use where temperatures exceed 30° C.
Trace element analysis:
Apiezon M grease is known for its low levels of trace elements.