SPI Supplies Anthophyllite Asbestos Analytical Standard Sample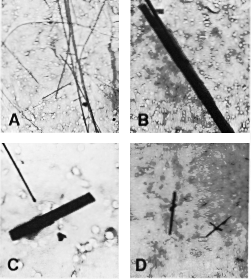 Anthophyllite Asbestos Analytical Standard Sample UICC 0.1g(DG,Ground Only)(CofC NA)
| | |
| --- | --- |
| Size | 0.1g |
| Item | 02702-AB |
| Availability | In Stock |
Anthophylite Finnish
UICC NB #: 4173-111-5
CAS #: 17068-78-9

The origin of this sample was the Paakilla mine in Finland. This type of asbestos only rarely found in construction materials. The fibers seem to be extremely flat and thin with a characteristic shape that resembles that of a knife blade, coming to a point at one end.
The UICC reference samples* were developed a number of years ago, as part of a world-wide research effort. A relatively large amount of these material were obtained, homogenized, characterized and distributed to a number of end users, manufacturers and sub-distributors. A great deal of analytical data was indeed developed on them for a variety of purposes, and various results were published in a number of different scientific journals and trade publications. The trace element compositions of the UICC standard asbestos samples are reported in American Journal of Industrial Medicine Volume 32, Issue 6, Pages 592 -594, Published Online: 6 Dec 1998.
No Certificate of Conformity is available for these products.