SPI-Chem Uranyl Nitrate (Depleted Uranium), Hexa-Hydrate, CAS #13520-83-7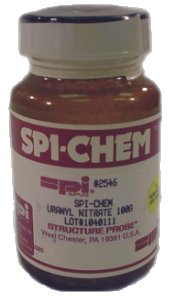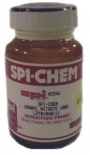 SPI-Chem Uranyl Nitrate (Depleted Uranium), Hexa-Hydrate 5g CAS #13520-83-7
| | |
| --- | --- |
| Size | 5 g |
| Item | 02546-AA |
| Availability | In Stock |
Radioactive

N2O8U•6H2O
CAS: #13520-83-7
MW: 502.1
APPEARANCE: Crystaline Solid
RTECS: YR3850000

Uranyl nitrate is usually used as an electron dense stain for transmission electron microscopy. However, it has also found application as 0.01% aqueous solution as a as a local catalyst in the polymerization of methacrylates. Reference: Hayat, M. A., Principles and Techniques of Electron Microscopy, 1970, Van Nostrand Reinhold, NY.
Uranyl nitrate is soluble in water, ethanol, acetone, and ether, but not in benzene, toluene and chloroform. The aqueous solution can hold up to 56% of anhydrous salt at 25° C. Uranyl nitrate solutions are more stable than those of uranyl acetate solutions, but it is less efficient as a stain than the acetate. In tissue, it stabilizes nucleic acids and membranes when used prior to embedding. It is frequently used after sections are cut to "post stain" or further increase the contrast of membranes, etc., in sections. Uranyl salts, particularly acetate, are also used as negative stains for viruses and small cellular organelles in suspension. Reference: Hayat, M. A., Positive Staining for Electron Microscopy, 1975. Van Nostrand Reinhold, NY.

Other electron dense uranyl based stains:
SPI Supplies offers a reliable supply of other hard-to-find electron dense stains, including uranyl formate and uranyl acetate. Let us know what other needs you might have for any uranium based compounds, we are set up to produce just about anything in the way of uranium compounds, always with depleted uranium for safety and virtually no exposure hazards.

Radioactivity statement:
This material is made from depleted uranium, meaning that it is uranium from which the radioactive isotopes have been essentially removed.
Restriction on shipments:
Uranium-containing compounds, as well as uranium metal are subject to special restrictions from both the United States and other governments both for export from the USA as well as for importation into other countries.

Shipping regulations:
UN 2910
Class 7
Licensing and shipping restrictions may apply. Consult your country specific regulations regarding radioactive materials.