SPI-Chem Uranyl Formate, (Depleted Uranium)CAS #16984-59-1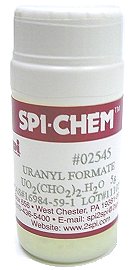 SPI-Chem Uranyl Formate, (Depleted Uranium)CAS #16984-59-1, 1g
| | |
| --- | --- |
| Size | 1 g |
| Item | 02545-AA |
| Availability | In Stock |
| | |
| --- | --- |
| Chemical Formula: | UO2(CHO2)2 • H2O |
| CAS#: | 16984-59-1 |
| Formula Weight: | 378.08 |
| RTECS #: | Not available |
| Apperance: | Solid, powder |
| Color: | Yellow |
| Odor: | Not available |
| Boiling Point: | Not available |
| Melting Point: | 110° C / 230° F |
| Specific Gravity (H2O = 1): | 3.695 |
Shipping Information
| | |
| --- | --- |
| UN #: | 2910 |
| Proper Shipping Name: | Radioactive material, excepted package-limited quantity of material |
| Hazard Class: | 7 |
| Packing Group: | Not applicable |
All uranyl compounds are becoming more and more difficult to produce in part because of the increased surveillance of the shipment of all materials containing radioactivity, no matter how low is the level. All SPI-Chem uranyl compounds, including uranyl formate, are literally made from "depleted" uranium metal, which means whatever radioactivity is present is far less than would otherwise be the case.
Why uranyl formate?
Put simply, for some samples, the use of uranyl formate as a negative stain, vs. alternatives, such as uranyl nitrate or uranyl acetate, just gives superior results. For example, we can cite one publication: Negative staining of rat tail tendon collagen fibrils with uranyl formate, D. P. Knight, Tissue Cell. 1975;7(4):651-4.

Often times when one is doing negative staining, there is an interest in trying more than one type of uranyl stain since the different uranyl compounds seem to give different results for different samples.

Characteristics of the product:
This is a very fine ground powder, yellow in color.

Other electron dense uranyl based stains:
SPI Supplies offers a reliable supply of other hard-to-find electron dense stains, including uranyl acetate and uranyl nitrate. Let us know what other needs you might have for any uranium based compounds, we are set up to produce just about anything in the way of uranium compounds, always with depleted uranium for safety and virtually no exposure hazards.

Restriction on shipments:
Uranium-containing compounds, as well as uranium metal are subject to special restrictions from both the United States and other governments both for export from the USA as well as for importation into other countries.

Shipping regulations:
UN 2910
Class 7
Licensing and shipping restrictions may apply. Consult your country specific regulations regarding radioactive materials.