Model 301BE Magnification Reference, 292nm Pitch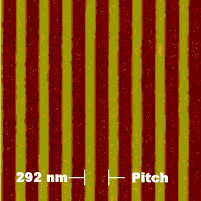 Model 301BE, High Magnification, High Resolution Calibration Reference (non-traceable).
Disciplines: AFM, SEM, Auger and FIB
Period: 292 nm pitch, one-dimensional grating. Accurate to +/- 1% (3 standard deviations). Line height: Approximately 30 nm (not calibrated).
Line width: Approximately 130 nm (not calibrated).
Surface: Titanium lines on Silicon wafer, 3 x 4mm.
A precision, holographic pattern featuring high accuracy, usability and stability. Its moderate ridge height makes it convenient for AFM. This specimen provides high contrast and excellent edge definition. It provides accurate calibration for high resolution, nanometer-scale measurements. The calibrated pattern covers the entire chip. There is sufficient usable area to make tens of thousands of measurements without reusing any areas altered or contaminated by previous scans.
AFM: use in contact, intermittent contact (Tapping Mode) and other modes with image sizes from 500 nm to 20 µm.
SEM: Suitable with beam voltages from under 1 kV to 30 kV. Useful from 5,000x to over 200,000x. Excellent contrast in back-scatter as well as secondary electron imaging.
Auger and Focused Ion Beam (FIB): use similar conditions as for SEM.
Available unmounted to accommodate all SEM stages. For AFM, available unmounted or mounted on 12 mm steel disks.
Model 301BE. This Calibration Reference specimen comes with a non-traceable, manufacturer's certificate. This states the average period, based on batch measurements. Need a traceable standard? Choose model 292UTC