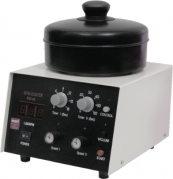 Spin Coater
Once the basic unit is selected, one must consider the appropriate "chuck" for holding the substrate being coated. Furthermore there are available optional purge cabinets, glass lids, and optional 10" bowls and lids to accommodate even larger substrates to be coated.
A few words about chuck size generally:
Generally speaking, the wafer size should be at least 0.25" (6 mm) larger than the chuck. Yet one should not have the wafer too much larger than the chuck size either or else performance will suffer. You should select the chuck precisely on the basis of the wafer size being coated. This might mean more than one chuck size would be purchased. It is also important that the entire chuck surface be completely covered with the wafer, otherwise the coating formulation will be literally sucked into the vacuum system and everything will clog up.
Although the bowl, especially with the optional 10" bowl is much larger than the largest mentioned wafer size, there is the temptation to think that larger than 6" wafers can be coated. This is not correct. Although some space is indeed needed between the bowl and the outer circumference of the wafer to avoid the phenomenon of "splash-back", a perhaps even more important reason is that the motor in the unit is just not sized to take an 8" wafer and performance will suffer. The exception would be if a thinner- than-normal wafer is being coated. But in order to do that, one would need the 8" chuck.
Subcategories in Spin Coater