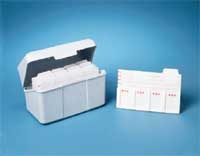 SPI Supplies Holders & Trays
Many laboratories accumulate huge numbers of slides that must be safely stored, some times years, in the event one might want to take "another look".
One does have the option of the popular SPI Supplies plastic slide boxes but bother suffer from the lack of ease of finding specific slides when retrieval is necessary. The new SPI Supplies® Brand Indexed Slide Storage Box and Holders solves this problem of easy retrieval. One can sort, group, classify or even arrange slides conveniently while using the supplied box. The index cards adapt easily to literally any slide identification system. Each holder accepts four standard slides, e.g. 3x1" (75 x 25 mm).
The basic "product" consists of a box and 12 index cards. Because there is a tendency for the index cards to "disappear", replacement index cards can also be purchased. Indeed we even recommend the purchase of a replacement pack of index cards in order to avoid the problem of our minimum order if at some point that was all you wanted to order. The index cards can be purchased either with or without the plastic filing box. A total of 12 index cards will fit into a single plastic box as supplies below.
Items in SPI Supplies Holders & Trays