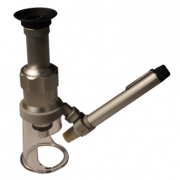 Wide Stand Microscopes

The PEAK Wide Stand Microscope is a compact and light weight simple measuring microscope but having a wider field of view. It allows highly magnified view of the fine pattern of a sample or object, and can also be used to measure length and compare dimensions by using a scale included in the eye piece.
Available in six magnifications: 20X, 40X, 60X, 100X, 200X and 300x.
SPI #

Magnification

Field
of View
Min. Scale
Size
Measuring
Range
Working
Distance
Total
Weight
02293-AB
With No. 64 Scale
20X
7.2mm
0.1mm
6.00mm
36.0mm
307g
02284-AB
WIth No. 64 Scale
40X
3.6mm
0.05mm
3.00mm
18.7mm
306g
02294-AB
With No. 74 Scale
60X
2.4mm
0.02mm
2.00mm
10.8mm
309g
09752-AB
With No. 84 Scale
100X
1.45mm
0.01mm
1.20mm
5.7mm
313g
09753-AB
With No. 104 Scale
200X
0.72mm
0.002mm
0.60mm
6.7mm
316g
09735-AB
With No. 114 scale
300X
0.48
0.001
0.40mm
4.0 mm
394g
Items in Wide Stand Microscopes