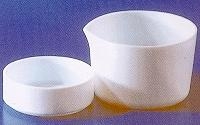 PTFE Labware
Introduction to PTFE labware:
The SPI Supplies® Brand of PTFE labware is molded, depending on the specific product, with PTFE (polytetrafluoroethylene) manufactured by DuPont, 3M Company (Dyneon®), or Asahi Chemical (Fluon®). Several different brands of PTFE are used and we have found that all three brands work well in the labware application. Please note that all of our products are manufactured from pure PTFE with FDA approval.
PTFE is ideally suited for the labware application because of its legendary resistance to just about anything including strong acids and bases. It is also resistant to steam and has a temperature range of use covering the range of -200°C (-390°F) to +300°C (+570°F). Because of the three dimensional structure of PTFE at the molecular level, it is essentially intractable in any solvent, therefore explaining its unique resistance to dissolution in most solvents or strong acids and bases. The helical structure of the polymer chain, which is literally "sheathed" by the F atoms means that more chemically vulnerable carbon-carbon bonds of the chain are fully protected.
Because of the very high purity of the PTFE starting material all products exhibit extremely low levels of extractables, even at elevated temperatures. The legendary non-stick properties of PTFE give it yet additional advantages for use in the laboratory.
Subcategories in PTFE Labware