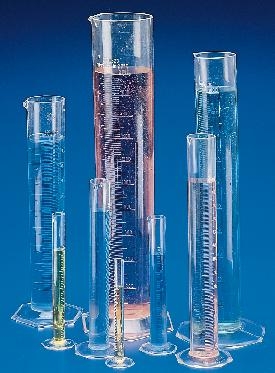 Graduated Cylinders
TPX® polymethylpentene (PMP) – Clear
Generally speaking, the plastic graduated cylinders made from clear TPX® polymethylpentene are of the higher quality and also, slightly higher cost. They are shatterproof. And furthermore, there is no concave meniscus, making the raised numeral, single scale graduations far easier to read. They feature a wide octagonal base to prevent tipping and rolling. Chemical resistance is superior to that of polypropylene and heat resistance to 177°C (350°F). They are also steam autoclavable at 121°C (250°F). Note: The only "negative" we can find for the PMP construction is that they tend to be slightly more brittle than polypropylene.
Polypropylene – Translucent
The polypropylene family of plastic graduated cylinders have a "Total Contained, Total Delivered" double scale with raised numerals for easy reading. The flared rim and large spouts facilitate pouring, and hexagonally shaped base gives additional stability. The "non-wetting" polypropylene surface eliminates concave meniscus and makes reading easier and more accurate. The polypropylene cylinders are chemically resistant (but less so then PMP above) and are autoclavable to 121°C (250°F).
Note: If you need more of a pitcher shaped vessel, consider the SPI Supplies brand of graduated pitchers.
Items in Graduated Cylinders