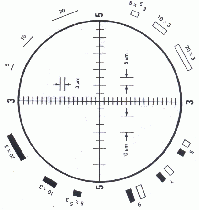 Walton & Beckett Reticle for Asbestos
The Walton and Beckett reticle is used for counting fibrous dust (e.g. asbestos or glass fibers) and is particularly useful where the majority of fibers to be counted are shorter than 5 µm. The circle is divided into four by two diametrical lines scaled in units of 5 and 3 µm respectively. It turns out that 3 and 5 µm are the critical measurements of fiber lengths and diameter used in fiber counting. Unlike the usual globes of other particle reticles, the Walton and Beckett has a series of shapes to which analyzed features can be compared. The shapes have been carefully designed for direct comparison with fibers, especially since they incorporate an aspect ratio of 3:1 or 5:1, essentially for such analysis.
Reference: W. H. Walton and S. T. Beckett, Occupational Hygiene Vol 20, 19-23, "A Microscope Eyepiece For the Evaluation of Fibrous Dusts."
Important note before placing an order:
The circle on these Walton and Beckett reticles must represent 100 µm at the stage and each one must be custom manufactured to suit each individual instrument. Therefore, in order to properly manufacture the appropriate reticle, you must provide SPI Supplies with the following information with your order:
Calibration factor or the information for us to calculate it for you which would include:
Objective magnification
Eye piece magnification
Diameter of reticle disc required
Microscope make and model
Items in Walton & Beckett Reticle for Asbestos