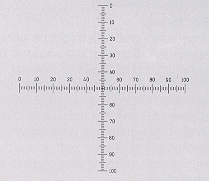 Graticules Optics, Ltd. Eyepiece Reticles
The products on this page may need to be calibrated, according to the intended use. There are a number of different patterns listed, which are used in a variety of different applications, and the exact calibration strategy should be determined by the user's particular application. We want to stress that these reticles are intended to be used with microscope eye-pieces and were not designed for use with magnifiers.
Sectoring:
A squared reticle might be used for the systematic examination of a specimen. Some of the squared patterns are numbered to aid in the identification of areas of interest. Sectoring is particularly useful for making drawings of specimens onto graph paper. The chessboard type of pattern helps the user to distinguish the position being examined; the darker squares are translucent, which the lighter ones are transparent, avoiding eye strain in prolonged counting sessions as may be necessary in hematology applications. These patterns provide the same advantages when used with image analysis and capture devices.
Counting:
A squared reticle can be used for counting. Here the basic principle is that a small area of the specimen is analyzed in order to obtain information about the total area. This minimizes sometimes wasteful work, thereby enabling simple analysis of a particular area. An example of this would be the comparison of large to small particles in a specimen. By using the Miller reticle (Style NE57) only the smaller particles in the small square are counted, the result being multiplied by ten for comparison with the number of larger particles in the large square.
Subcategories in Graticules Optics, Ltd. Eyepiece Reticles