Calibrated SEM Mounts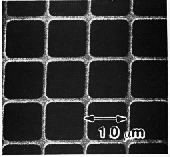 Features:
Orthogonal repeat units of 10 µm
"Bars" that are 1.9 µm +/- 5% in width.
Easily cleaned for reuse with a good solvent (e.g. acetone) and a non-linting foam swab
But just remember, we can not guarantee the above mentioned dimensions and variance information but we really do believe that these numbers are either right on the mark or are very close to the reality of the samples. Measurements of the 10 µm repeat would suggest a "3 sigma" from different locations on the total wafer produced to be less than 0.100.