SPI Cure Embedment Heater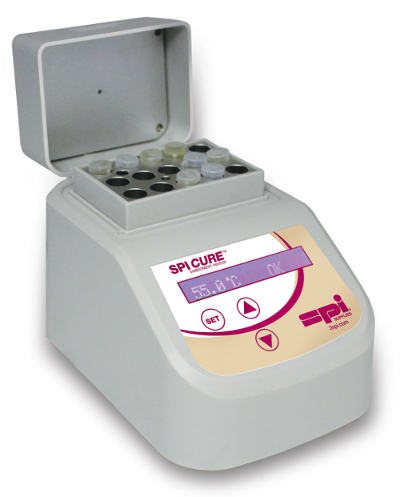 The SPI CURE™ is a dry block heater designed for the curing of various EM embedding resin systems. The unit is ideal for the preparation of small batches of plastic-/resin-embedded specimens for Electron or Light Microscopy.
The system comes with a standard aluminum heating block 1.5 snap-cap conical tubes. Using precise controlled temperatures ranges of up to 80°C, the dual heaters (upper and lower) provides a consistent temperature and provides a safe environment for the polymerization of LR White (acrylic) and SPI Pon (epoxy) resins.
SPI Sure can be used with both protected and unprotected BEEM capsules as well as 00-gelatin capsules. It is a personal sized instrument that fits in the palm of your hand. A large, backlit display is used to control temperature up to 80°C.
The SPI Cure takes the place of large ovens that tend to not provide uniform heating. The small size allows easy storage and transport, enabling the use of a fume hood if needed for a particular resin. The SPI Cure provides a 'greener' energy signature for this part of specimen preparation.

Features:
Compact, fits in the palm of your hand
Exchangeable blocks, for tube sizes 0.2 to 50ml
Clear cover ensures temperature uniformity
Digital Temperature Control
Portable (Optional 12V car adapter)
Convenient hinged lid
Technical Data:

Temp. Range:

Amb. +5 to 100°C

Temp. Accuracy:

+/- 0.5°C

Temp. Increments:

0.1°C

Temp. Uniformity:

+/- 0.2°C

Block Construction:

High Grade Aluminum

Dimensions:
(W x D x H)

4.6 x 4.5 in.
10.5 x 15 x 11 cm

Weight:

2 lbs (1kg)

Electrical:
(Universal)

100 to 240V 50-60 Hz, 50W

Block Dimensions:

1.85 x 2.8 x 1.25in (4.7 x 7.1 x 3.2 cm)