Liquid Nitrogen Dewars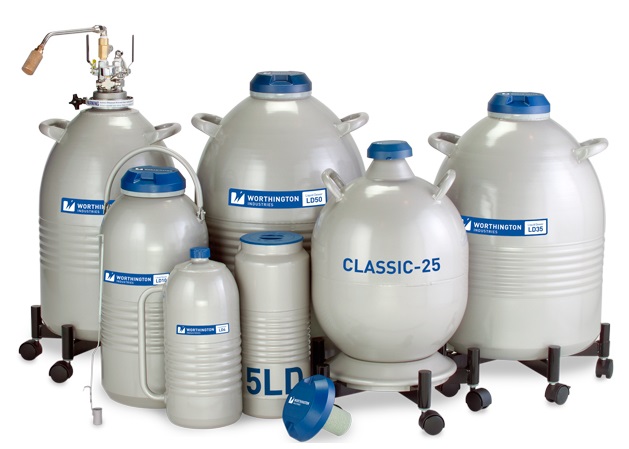 The Worthington Industries Liquid Dewar (LD) Series of cryogenic dewars are designed for storing and dispensing smaller amounts of liquid nitrogen. (These dewars were formally sold under the Taylor-Wharton name)
The line includes a pitcher-style model for easy pouring (LD4), a beaker-style wide-mouth dewar (5LD), and a unique onion-style dewar (CLASSIC-25) that offers an improved center of gravity for ease of lifting and pouring.
Liquid capacities range from 4 liters to 50 liters.
These Dewars are designed for storing and dispensing small quantities of liquid nitrogen. Easy to use cap or the neck tube core assure easy access and low thermal loss without unnecessary exposure to the cryogen. Constructed from materials of the highest performance and quality including an aluminum exterior, these containers are not only rugged, robust, and dependable, but also have very high thermal efficiencies. When using liquid nitrogen, be sure to use the highest quality cryo-gloves that can be found anywhere.
Aluminum Dewar Features:
High-performance modern construction
Advanced insulation materials assure high thermal efficiency
Rugged construction, ribbed high strength aluminum body, magenformed neck tube design and durable paint system
Lightweight snap-on cap and neck tube assures tight closure and easy access
Larger handles
Superior vacuum performance with super insulation provides maximum holding times

Optional accessories include:
Tipping stands and roller bases for certain models: Liquid Nitrogen Dewar Roller Bases
Industry-leading liquid withdrawal device that provides safe and secures dispensing of liquid nitrogen at flow rates up to 8 liters per minute: Liquid Nitrogen Dewar Liquid Withdrawal Device
Replacement cap and neck tube cores: Liquid Nitrogen Dewar Caps & Necktube Cores
SPI#

Liquid Capacity

Height

Diameter

Neck

Weight

Evaporation

Liters

(in.)

(in.)

Dia. (in.)

Empty
(lbs.)

Full
(lbs.)

Loss
(Liters/Day)

10415-AB

4

16.7

7.6

1.2

6.0

13.0

0.4

10416-AB

5

17.5

7.6

5.6

5.0

14.0

0.77

10426-AB

10


21.0

11.4

2.0

13.4

31.2

0.22

10418-AB

25


25.7

15.6

2.5

26.4

71.0

0.23

10419-AB

35


25.6

18.8

2.5

28.0

90.0

0.23

10420-AB

50


32.6

18.8

2.5

38.9

128.0

0.41