MACO ES Electron Microscope Film (For resolution), 6.5x9cm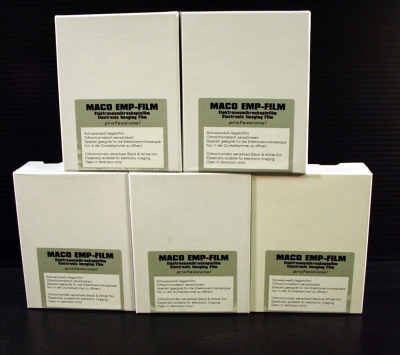 MACO™ EM Film Type S
MACO™ EM and EMS films are photographic material that have been optimized for scientific applications in electron microscopy. The particular advantages are:
A high degree of flexibility
High speed
Excellent signal-to-noise ratio (or ultra-fine grain), and
Optimum detail resolution.
Boxes of 100 sheets
6.5 x 9 cm
The base material is mechanically, chemically, and dimensionally stable, and robust polyester. It is virtually impossible to tear it by hand. Among other things, this ensures outstanding archival stability (expected life: 500 years). The thickness of Kodak and MACO film are the same at 7 mils (175 µm)

Anyone using Kodak® 4489, the MACO EM Type S film should be selected. Some tweaking of the exposure times will be in order. The depletion rate of fixes is comparable to Kodak 4489.

Use of drying agents:
The use of Photo-FLO 200 Solution to eliminate drying marks and water steaks will work the same way on the MACO as on the Kodak films.

Available formats:
The MACO™ Electron Microscope EM Film Type S is available in standard EM size formats, 3.25x4" and 6.5 x 9 cm.

The individual sheets of MACO™ Electron Microscope Film are packaged with separation (paper) sheets, which reduces problems caused by static charges and ensures individual sheets will not stick together when taken out of the package.

Each sheet bears a notch, which is situated at the top right corner when looking at the emulsion side of the film.

Digital camera users: A note of caution:
Customers purchasing digital cameras often times think that the use of film, such as for selected area electron diffraction studies would still be an option using film, should be warned that at least some manufacturers of digital cameras advise not mixing "film with digital". Their logic is that particulates from film can fall onto the digital camera and cause a rapid reduction in performance and eventual failure. We have heard this only from the side of a manufacturer, not that of an actual end user. We don't like talking ourselves out of potential business but at the same time, we want to warn prospective customers with digital camera of this particular concern.