Gooseneck 6W LED Dual Spot Lamp, 18"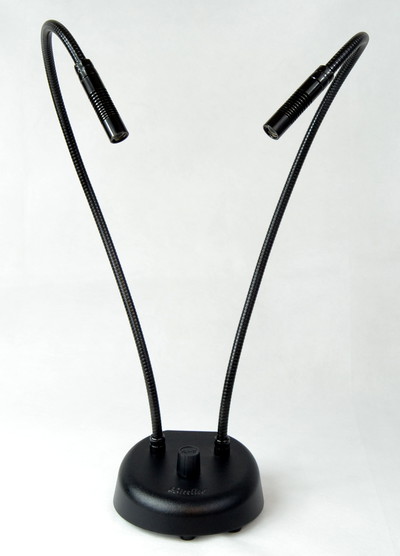 Specifications
6W LED Total Light Output
Two 18" Gooseneck Style lamps
High Powered White LED
5-28 Vdc Operation
Weighted Base with Dimmer
Power Supply Included
Wattage: 3 Watts per light, 6 Watts total
Draw @ 12 Volts: 480mA
Light Output @ 6": 1500 Lux
Color Temperature: 3100K
CRI: 90+ Ra
Average Life: 60,000 Hours

Designed for the microscopy laboratory, the ANSER Dual gooseneck is an excellent choice for any application requiring strong, even illumination. The dual 3-Watt LED lamps provides a warm and consistent light source without generating excessive heat. The 18" gooseneck allows easy orientation of the lamp. The compact weighted base with built-in dimmer takes up very little space on a work bench or desk. Perfect for even illumination of stereoscope stages and other workspace areas requiring bright lighting. Adjustable dimmer allows for softer lighting effects.
Includes 12-Volt power supply.