SPI Supplies Fast-Track "Ralph Style" Glass Knife Maker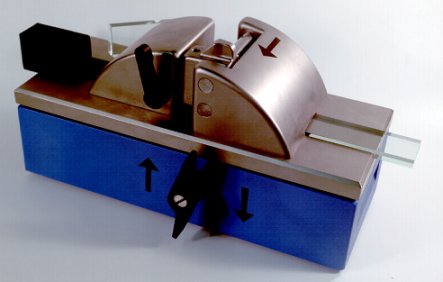 SPI Supplies Fast-Track Ralph Style"" Glass Knife Maker

SPI Supplies Fast-Track Ralph Style"" Glass Knife Maker
Historically, those working with the microtomy of tissue samples have referred to two different types of sections: "Thin sections" when transmission electron microscopy (TEM) is contemplated and "thick" sections when light microscopy (LM) is contemplated. The SPI Supplies Ralph Knife Maker has been designed for the making of "thick" or "histology" sections for LM. These sections are too thick for the penetration of a conventional TEM beam.

If making knives for thin sections is required, we would recommend using the Messer™ Knife Maker Model Type C.
The design of the SPI Supplies Ralph Knife Maker dates back to the early 1970's to one created by Polaron Equipment Ltd (UK). The basic design has been refined over time, but the SPI Supplies adaptation closely models the original Polaron design. The SPI Supplies Ralph Knife Maker is considered one of the premium knife makers in the world resulting in a high quality glass knife almost every time.

The SPI Supplies Ralph Knife Maker is precision designed, reliable and easy to use for producing 25.4 mm (and 38 mm) wide glass knives when used in conjunction with the SPI Supplies® Brand histology grade of microtomy glass (or any other 6 mm thick glass strips of the same quality).
The SPI Supplies Ralph Knife Maker will automatically compensate for changes in the thickness of the microtome glass, resulting in ease of use and consistent quality-edged knives for cutting thick sections.

Selection of the glass:
We recommend the SPI Supplies Histo-Glass for Microtomy in 6.0mm thickness