Castrol Fluoroclean X100 Nonflammable Solvent and Grease Remover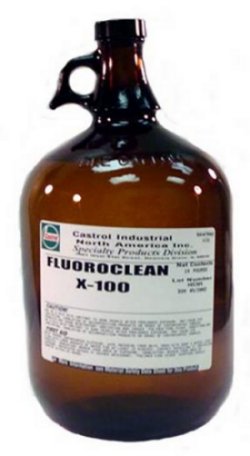 Castrol has relabeled this product as Castrol® Brayco IC X-100. The product has not changed but will no longer be sold as Fluoroclean X100.
Castrol® Fluoroclean X100 is a high performance, environmentally friendly, non-flammable solvent. It is chemically inert, non-flammable, and very low in toxicity, and compatible with most metals, plastics, and elastomers. Castrol manufactures two perfluorinated solvents: Castrol Fluoroclean X100 is recommended for use in grease plating applications and Castrol Fluoroclean HE is recommended for use in cleaning perfluorinated oils and greases from surfaces.
Related Items