SPI-Chem™ Pioloform® B Resin, Polyvinyl Butyral, CAS #63148-65-2 [CofC not available]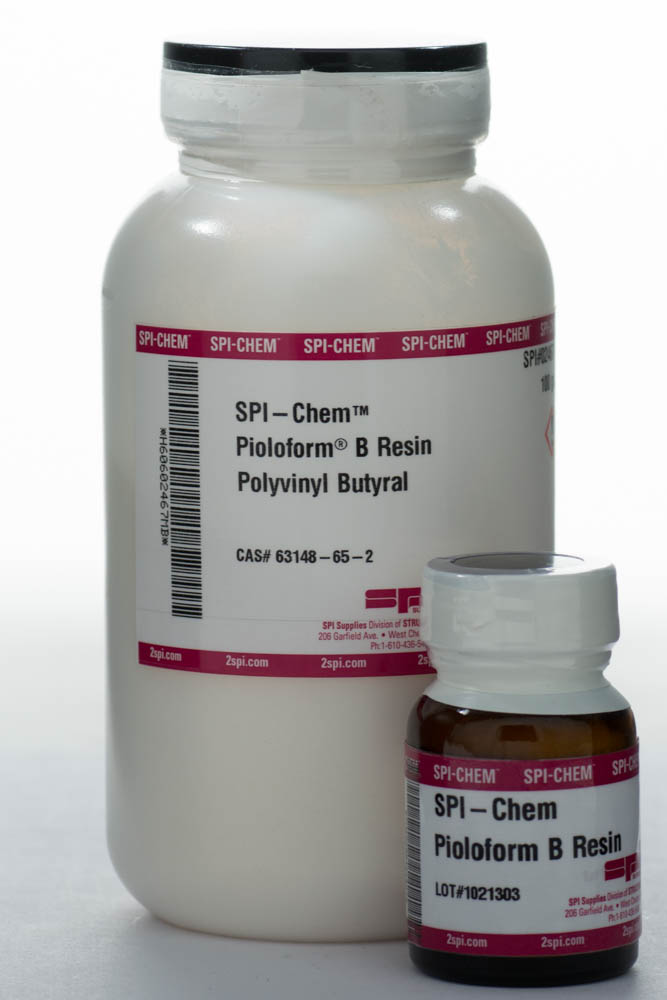 SPI-Chem Pioloform Resin, 10g, Polyvinyl Butyral, CAS #63148-65-2
| | |
| --- | --- |
| Size | 10 g |
| Item | 02466-BA |
| Availability | In Stock |
SPI-Chem™ Pioloform Resin
CAS #63148-65-2
While not as widely used as some of the other support film materials such as Formvar™ or Parlodion®, this resin is perceived at least by some users to have a higher thermal stability than either Parlodion or Formvar. Pioloform B, or as it is known chemically, polyvinyl butyral, is also perceived to result in a somewhat thinner film, resulting in less electron scatter for a given film thickness. However, with the discovery that good stable holey films can be made of other resins, especially Formvar which is not even hazardous to handle, this perceived advantage is not such a major advantage after all. It is also sometimes perceived that one sees less "structure" in films cast of Pioloform B, but again where that is an issue, one would normally switch over to the use of holely films of Formvar, for example.
Anyone considering the use of Pioloform B should keep in mind that there is virtually zero water solubility and it is generally used as a 0.25 to 2% solution in chloroform.
Take advantage of some of the tips from the SPI grid coating experts! Or consider the purchase of grids already custom coated by SPI Supplies.