SPI Easy Molds, Push Out Style for Plastic Embedding, 5.6 mm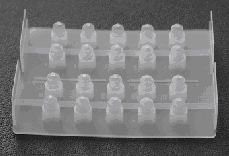 SPI Easy Molds, Push Out Style for Plastic Embedding, 5.6 mm, Pack of 5
| | |
| --- | --- |
| Size | Pack of 5 |
| Item | 02303-AF |
| Availability | In Stock |

SPI Easy Molds, Push Out Style for Plastic Embedding, 5.6 mm, Pack of 25
SPI Easy Molds™, Push Out Style for Plastic Embedding, 5.6 mm, Pack of 50
These have to be the most innovatively designed embedding molds we have ever seen. They are convenient because they are self-standing and do not need a capsule rack to hold upright. And they are economical since they can usually be reused at least another one or two times because of the "push out" nature of the mold base.

You just can not beat these molds for convenience for plastic embedding for TEM or LM. The Easy Molds are available in two convenient sizes:

Small:
SPI #02303-AB Consists of two sets of 10 molds each (for total of 20 cavities) of 5.6 mm diameter, corresponding to a BEEM® Size 3 embedding capsule. Overall dimensions of each unit: 87 x 66 mm in lateral dimensions x 16 mm high.