SPI-Chem Molecular Sieve Type 13x, 100 grams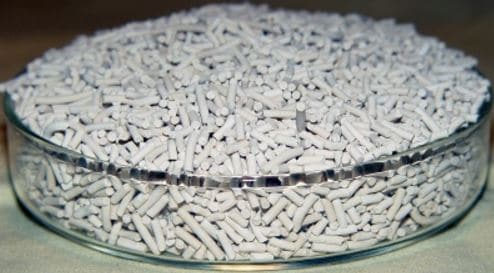 SPI-Chem Molecular Sieve Type 13x, 100 grams
| | |
| --- | --- |
| Size | 100 grams |
| Item | 02015-MB |
| Availability | In Stock |
SPI-Chem Molecular Sieve Type 13x, 500 grams
| | |
| --- | --- |
| Size | 500 grams |
| Item | 02015-RA |
| Availability | In Stock |
Nominal Pore Size:
10 Å (1.0 nm)
Crystalline Structure:
Body Center Cubic
Equilibrium Water Capacity @ 25° C:
@10% RH 19 ± 1% / @50% RH 22 ± 1% (wt)
Bulk Density:
40.6 ± 2.b lb/ft3
Crush Strength:
7.7 ± 2 lb
Heat Of Absorption (Max):
1800 BTU/lb H2O
pH (Slurry):
11 ± 1
Moisture Content As Shipped :
1.5% [Measured @ 315° C / 600° F]
Loss On Ignition :
2.5% Max.
The SPI-Chem™ Type 13X molecular sieve is typically used for general gas drying, air plant feed purification (simultaneous removal of H2O and CO2) and liquid hydrocarbon and natural gas sweetening (H2S and mercaptan removal). All molecular species that can be adsorbed on molecular sieves 3A, 4A and 5A can be adsorbed on Type 13X. In addition, Type 13X can adsorb molecules of larger critical diameters, such as aromatics and branched-chain hydrocarbons. For example, chloroform, carbon tetrachloride and benzene can all be adsorbed on 13X.
Technical data:
| | |
| --- | --- |
| Nominal pore size.............. | 10 Å (1.0nm) |
| Type of crystal structure...... | Body center cubic |
| Equilibrium water capacity @ 25°C..... | |
| @10% RH | 19 ± 1% |
| @50% RH | 22 ± 1% |
| Bulk density................... | 40.6 ± 2.5lbs/cu ft. |
| Crush Strength................. | 7.7 ± 2 lbs. |
| Heat of Adsorption (max)....... | 1800 BTU/16 H2O |
| pH (Slurry..................... | 11 ± 1 |
| Loss on ignition............... | 2.5% Max. |