SPI Aluminum Weighing Dishes, Crimped Edges, Medium (57 mm dia), Pk 100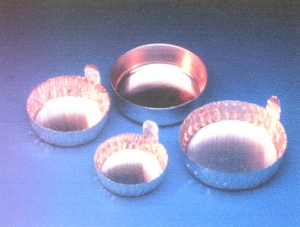 SPI Aluminum Weighing Dishes, Crimped Edge, Small (43 mm dia), Pack of 100
| | |
| --- | --- |
| Size | Small |
| Item | 01257S-MB |
| Availability | In Stock |

SPI Aluminum Weighing Dishes, Crimped Edges, Medium (57 mm dia), Pack of 100
| | |
| --- | --- |
| Size | Medium |
| Item | 01257-MB |
| Availability | In Stock |
| Quantity | Price |
| --- | --- |
| 1 to 9 | $8.82 |
| 10 and up | $7.94 |
| SPI # | Diameter | Depth |
| --- | --- | --- |
| 01257S-MB | 43 mm | 12 mm |
| 01257-MB | 57 mm | 16 mm |
| 01257L-MB | 70 mm | 16 mm |
Carefully crafted with pure 0.9999% aluminum, the SPI Aluminum Weighing Dishes are offered in three different sizes and two edge finishes, crimped and smooth, to match every technical size requirement. The weighing dishes are generally used as a disposable item and their reuse is not recommended. The most common size is "Medium".
In the EM laboratory, the most frequent use is during "pre-embedding" procedures. For the plasma ashing of organics, these small aluminum weighing dishes are excellent substrates. They can be easily cut out into small pieces with a scissors or razor blade, mounted onto an SEM mount with the ashed residues and examined in the SEM, in situ.
Applications:
The main applications for these dishes are for routine weighing and moisture testing.
Upper temperature limits of use:
Although the melting point of aluminum is cited at 660.32°C (1220.58°F), it is not recommended that the aluminum weighing dishes be used above the range of 482°C to 649°C (900°F to 1200°F) depending on whether in vacuum or air.

The "secret" about aluminum weighing dishes:
There is a "food grade" release material present on the aluminum weighing dishes. It is a minuscule amount but it is there. The benefits of the release material far outweigh any disadvantages. The presence of this release layer is not a unique feature of the SPI aluminum weighing dishes; it is prevalent throughout the industry of firms making these aluminum dishes.
The release material can easily be removed by wiping with toluene or xylene. In larger quantities, perhaps the best way, is a low-temperature oxygen plasma treatment in the SPI Plasma Prep™ III low-temperature plasma etcher/asher.
Will I notice a difference in powder behavior when weighing once the layer if removed? Yes, because without the layer there is a tendency for a powder to stick (e.g. not release) the aluminum surface. This is mainly due to charges on the powder. The best way to deal with this "charging" problem is to use the Zerostat® AntiStatic Gun which will discharge the powder.