SPI Supplies Brand Plastic Slide Mailer, Holds 5 Slides, Opening Short Flap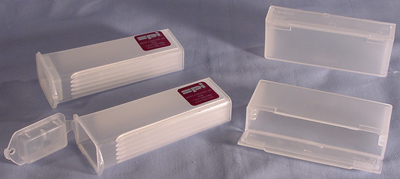 SPI Supplies Brand Plastic Slide Mailer, Holds 5 Slides, Opening Short Flap, Pack of 10
| | |
| --- | --- |
| Quantity | Pack of 10 |
| Item | 01253-BA |
| Availability | In Stock |

SPI Supplies Brand Plastic Slide Mailer, Holds 5 Slides, Opening Short Flap, Pack (50)
| | |
| --- | --- |
| Quantity | Pack of 50 |
| Item | 01253-FA |
| Availability | In Stock |
End Opening (short flap)
Liquid volume with five slides present: 18 ml, 50 mailers.
These slide mailers were developed for so many different applications, some times we wonder why we all continue to call them "mailers". Many of our customers use them just for their own convenient storage of slides that might have to be looked at some later time. Others think these are the ideal system for staining. Because of the availability of different colors (red, yellow, blue, purple, orange) there is a "built in" system for color coding different types of slides, for example, stained vs. unstained or "looked as" vs. not look at. Note that the pack of "assorted colors" does not include a box in "natural" color.

Construction:
Solvent resistant polypropylene.
This is the ideal way to store slides long term. These handy and convenient little boxes are not only inexpensive but also the tight seal keeps dust and to a large degree, also moisture, out. Both boxes are partitioned in a way that it is not possible for one slide to touch another. For larger capacity slide boxes, see the SPI Plastic Slide Storage Boxes, or the Negafile Boxes for Microscope Slides Stackable.

Other applications:
It is our understanding that these boxes can also be used for in situ hybridization experiments with five slides in the box.

End Opening (Short Flap) vs. Edge Opening (Long Flap):
Some slides are literally covered with specimen and usable area across the entire width of the slide, which would mean that to insert into the edge opening design, finger tip contamination could occur as the slide was being inserted and removed from the box. In those cases, the end opening geometry is clearly preferred.

For other applications, there is a preference for the edge opening geometry. We are ourselves not familiar with just what those applications might be, and it might just be a case of personal preference. We know that there are some applications where a single slide is divided into two sectors, so that the middle of the slide is not used and therefore can be finger-handled. But the sales of the two different types are roughly equal, so for many users, the geometry selected is not really that critical.