Alconox Alcojet Low-Foaming Powdered Detergent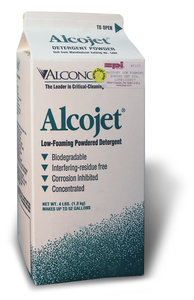 Alcojet® Low-Foaming Powdered Detergent is an excellent nonionic low foaming cleaner with these advantages:
Concentrated to save you money
Biodegradable and readily disposable
Non-ionic, low foaming cleaner for high performance from your cleaning machinery without damaging washer parts
Free rinsing to give you reliable results and no interfering residues
Use to pass your cleaning validation tests for lab accreditation and plant inspection approval
Alcojet® is used in labware washers, parts washers, power-spray systems, and is designed for both manual and ultrasonic cleaning devices. It is a corrosion inhibited formula and is recommended for glassware, metals, plastic, ceramic, porcelain, rubber and fiberglass. This product rinses to non-interfering levels of residue, sometimes called "free rinsing".
4 Pound (1.82 kg) box
Shelf life considerations:
We are often times asked about the shelf life of this product because of some of the critical applications in which it is used. Officially, it is one year, from the date of shipment from SPI Supplies, which corresponds to the date for which the performance is guaranteed by the manufacturer. The product is also guaranteed in terms of its performance for two years after manufacturing, which ever date comes first.
These shelf lives are very conservatively stated and noticeable degradation takes much longer, and the products will continue to work for a long time after they have technically expired, although the degradation will show up in very careful side-by-side comparative testing.
Directions for use:
Dilute 1:200 for the working solution.
pH of final working solution: 12
Accreditations: USDS authorized