Galden SV55 Perfluoropolyether Cleaning Solvent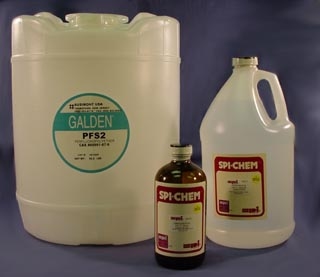 PERFLUOROSOLV PFS-2 Perfluorinated Cleaning Solvent, 500 ml CAS #69991-67-9
| | |
| --- | --- |
| Volume | 500 ml |
| Item | 00021-RA |
| Availability | In Stock |
NOTE: Galden SV55 Perfluoropolyether Cleaning Solvent is the same product as Perfluorosolv PFS-2 Perfluorinated Cleaning Solvent only rebranded as part of Solvay.
Galden® SV55 is the recommended cleaning solvent for perfluorinated ployether fluids and greases. It is safe, inert and non-toxic. It has zero Ozone Depletion Potential and is not classified as a VOC by the US Environmental Protection Agency (EPA). It contains no chlorofluorocarbons (CFCs), chlorine or bromine. It requires few safeguard precautions or use-restrictions and is completely compatible with all metals, rubbers and commercially available elastomers and plastics.
Galden SV55 fluids are formulated to be compatible and fully miscible with PFPE oils and greases. They are fully miscible with Perfluorocarbon (PFC) fluids and with Chlorotrifluoroethylene (CTFE) oils above 45 °C.
Applications
Whether alone or in conjunction with other solvents, Galden SV55 fluid performs well in many electronic and semiconductor cleaning functions, such as: pump cleaning, degreasing, vapor blanketing, improving flash point, and eliminating traces.
| | | |
| --- | --- | --- |
| Typical Properties | | |
| | Units | SV55 |
| Boiling point | °c | 55 |
| Density | g/cm³ | 1.65 |
| Surface tension | Dyne/cm | 10 |
| Kinematic viscosity @25°c | cSt | 0.45 |
| Heat of vaporization BP | Cal/gm | 22 |
| Vapor pressure @20°c | Torr | 228 |
| Solubility of water | ppm | 14 |
| Flash point | °c | None |
| Fire point | °c | None |
| Auto ignition temperature | °c | None |
| Ozone Depletion Potential | 0 | 0 |