KARMEN™ BSE Detector with Cooled Stage
Retractable BSE detector for SEM for hot stage samples
KEY FEATURES:
Reliable Sensor
Single crystal sensor
Scintillator/PMT principle for ultimate image quality
Excellent S/N ratio
Unlimited sensor lifetime
HV + LV + ESEM operation
Sample temperature over 1000°C
Precise Mechanics
Motorized retraction mechanism
Bellows-sealed high vacuum system
Retraction 140 mm
Compact design
Precise alignment
Customized connection to SEM
The KARMEN BSE detector is a scintillator based detection unit for scattered electrons which includes YAG:Ce scintillator and light-guide (Sensor Unit ), vacuum optical feed-through, bellows based vacuum retraction mechanism (Mechanical Unit ), photomultiplier (PMT) and Electronics Control Unit .
The scintillator is a YAG:Ce single crystal with a conductive ITO coating. The scintillating light is detected by the PMT module.
The retractable vacuum mechanics is motorized.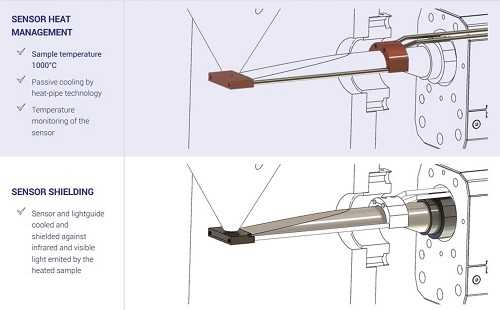 SENSOR UNIT
Single crystal scintillator with optimized efficiency and minimized afterglow, exponential decay time 45 ns with 30 photons/keV
Outer diameter 15 mm
Inner hole diameter 3 / 2 / 1.5 or 1 mm. This dimension limits the field of view
Exclusive CRYTUR LOW-ENERGY COATING™ sensitive down to 0.2 keV
Sensitivity down to 10pA beam current
Allows a 7 mm working distance
MECHANICAL UNIT
Dimensions 406 x 100 x 72 mm
Bellows design for ultimate vacuum
140 mm motorized retraction
+/- 2 mm fine adjustment in x, y, z axis
Flange adapted to customer's SEM
Silver / black / blue / red matt surface finish available
ELECTRONICS CONTROL UNIT
Dimensions 270 x 180 x 65 mm

Supply 230/110 V
3 noise filters optimized for different scanning speeds
50 MHz bandwidth
Internal source 0-1200 V for PMT HV
Output video signal -1/+1V (-5/+5V)
Full remote software control
DC offset up to -20V
The KARMEN - retractable BSE detector for hot stage is an after market product designed to fit on most SEM Systems. Information on the SEM Model, stage, ports available, and other detectors will be needed as part of the final build.