Technoorg Linda Gentle Mill 3 Model HI for Hitachi FIB/STEM systems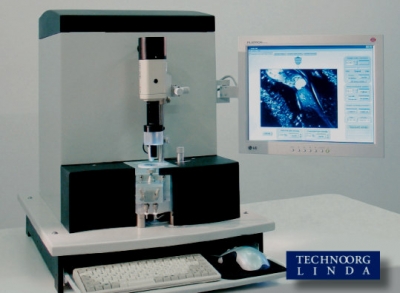 Call or
E-mail
for more information!
Gentle Mill Ion Beam Workstation (For use with Hitachi FIB/STEM systems):
You have spent many hours in the cutting, mounting, polishing and preparation of your sample and now there are the final steps before your examination. It is in these last steps that extra care must be taken to ensure that the area of examination is free from artifact and distortion. The Gentle Mill 3 is designed to produce such a sample and is the final step of an Ion beam workstation for preparing the highest quality TEM/FIB samples.
Artifact-Free Sample Preparation
The Gentle Mill 3 system (Model IV8) allows the production of damage-free samples at low-energy ion bombardment and provides a clear opportunity to study the real nanostructures in synthesized and natural materials in all fields of technical sciences and materials research. It is designed for researchers who want to prepare the highest quality artifact and damage free XTEM, HRTEM or STEM samples. These ion mills are also suitable for quick thinning of dimpled or thin (< 25 µm), planar, mechanically polished samples.
State of the Art Low-Energy Ion Source
The Gentle Mill 3 ion beam workstations operate with an outstanding patented hot-cathode low-energy ion source. The low energy of the ion beam minimizes the surface damage and ion beam induced amorphization. The unique construction of the ion source allows high ion beam current densities. All ion gun parameters, including accelerating voltage and cathode current, are controlled automatically by a digital feedback loop, but they can always be changed manually during the sample preparation procedure. The initial values of the ion source parameters are set either automatically or manually and are continuously displayed on the computer screen.
Automated Operation
The third generation of the Gentle Mill 3 is provided with full computer control, utilizing an easy-to-use graphical interface. All milling parameters including ion source setup, gas flow control, and setting of other milling parameters such as sample motion, tilt angle and perforation detection can be stored or pre-programmed in the system. This fully automated feature allows production of high-quality samples with minimum user intervention. The Gentle Mill 3 is supplied with a software extension for in-line support, which enables instant error detection and problem elimination via the Internet.
Specifications
Low-Energy Ion Source (One fixed type)
Ion energy:100 - 2000 eV, continuously adjustable
Ion current density: max. 10 mA/cm2
Beam current: 7 - 90 µA, continuously adjustable
Beam diameter: 750 - 1200 µm (FWHM)
Manually or electronically optimized working gas flow (mod. IV8)
28 µm/h milling rate on c-Si at 2000 eV ion energy and 30° angle of beam incidence
Specimen Stage
Milling angle: 0° - 45°, electronically adjustable in 0.1° increments
Computer controlled in-plane specimen rotation and oscillation (0°- 120° angular range, electronically adjustable in 10° increments)
Remarkable thickness range of the accepted TEM samples (30 - 200 µm)
Specimen Handling
Vacuum load-lock system for fast specimen exchange
Fully mechanical, glueless specimen loading system
Specially designed titanium frames and encapsulation technology for XTEM samples
Vacuum System
Pfeiffer vacuum system with oil-free diaphragm and turbomolecular pumps equipped with compact, full-range Pirani/Penning vacuum gauge
Gas Suppy System
99.999% purity argon gas of 1.3 - 1.7 bar absolute pressure
Dedicated pressure regulator for noble gas service with electronic outlet pressure monitoring
High-precision working gas flow control via motorized needle valve
Imaging System
CCD camera image for full visual control and milling supervision/termination
High-resolution color CCD camera
Manual zoom video lens of 50 - 400x magnification range
Computer Control
Built-in computer system with easy-to-use graphical interface and image analysis module
Highly automated operating regime for minimum user intervention
Pre-programmed or manually set milling and polishing cycles
Automatic termination: optical termination of the milling process supported by an image analysis module (detecting the sample perforation or monitoring the surface topography)
Specimen preparation for SEM applications by ion milling
The Gentle Mill 3 offers the ability to work with SEM samples. Two SEM holder types are offered:
Ion Beam Slope Cutting
The specially designed Ion Beam Slope Cutting (IBSC) sample holder for Gentle Mill 3 allows the user to produce and clean high quality cross-sections for SEM investigations. Using an adjustable screening plate, the IBSC sample holder can be used to prepare an inclined (slope) cut with an inclination angle of 45°into the surface layer of a bulk sample. The ion beam would be nearly parallel to the screening plate and the exact location and depth of the cross section to be cut are easily defined. The ion beam slope cutting technique can be applied to heterogeneous materials, even to those of significant variations in composition and hardness. In this case the quality of the cut surface can be improved by oscillating the sample during the cutting process.
Sample size limit for ion beam slope cutter: 6.5 x 6.5 mm or 6.5 mm diameter, thickness: 0.5-2 mm cut line: ~ 1.2 mm in length
The ion beam slope cutter requires a different sample rod manipulator than what comes with the standard Gentle Mill 3 System
Final Polishing/Cleaning Holder
The diffraction pattern of Electron Back scattered Diffraction (EBSD) in the SEM is formed within the first few tens of nanometers of the specimen surface. Thus an optimal pattern quality can be achieved if the material near the surface is not deformed, damaged or contaminated. For many materials, standard preparation methods such as mechanical and/or electrochemical polishing may not be a sufficient enough preparation technique. Ion milling can produce surfaces suitable for EBSD studies especially on materials where the above traditional methods do not provide appropriate results.
Sample size limit for Polishing/Cleaning Holder: 5.5 x 5.5 mm or 8 mm diameter, thickness: 0.5-2.5 mm cleaned area: ~ 2.4 mm in diameter
The Final Polish/Cleaning Holder requires a different sample rod manipulator than what comes with the standard Gentle Mill 3 System
Special Model for Direct Application with Hitachi FIB/STEM Systems
Hitachi and Technoorg Linda offer a complete solution for site specific and low-damage specimen preparation based on Hitachi's FIB/STEM systems and Technoorg Linda Gentle Mill 3 ion beam workstations. The low-energy ion milling and cleaning capability of semi and fully automated Gentle Mill 3 models is used in the final stage of FIB specimen preparation to remove the damaged surface layers. This model allows direct insertion of Hitachi's 3D FIB/STEM sample holders, allowing the sample preparation time to be drastically decreased.