Wet Cell II Liquid Probe System for SEM/EDS,EPMA and TOF-SIMS
Introduction to Wet Cell II:
The Wet Cell II is the next generation device for the examination of liquids in an EM environment. The self-contained high vacuum compatible device* enables the analyst to characterize a fluid in its natural state. And as it is a self-contained device, there is no need for modification of the existing microscope. Once the liquid is loaded into the device platform, it is inserted into the microscope and is ready for analysis.
The device can be used for in-situ chemical probing or molecular imaging of a sample in liquid. Potential application areas will be liquid surface chemistry, microbiology, drug delivery & reaction, et al.

How does it work?
The Wet Cell II uses a silicon nitride membrane window installed on a microfluidic channel and connected to a pump, allowing the flow of the liquid along the window during analysis. A small FIBed hole in the SiN membrane allows electron beam to interact with the liquid with minimal loss of the fluid. In this way, one can examine the fluid directly. The device is battery driven providing up to four hours of analytical time per run.
The 75x100 mm platform contains all the components needed to run your sample and is adaptable to most electron microscopes. A degassed fluid is loaded by syringe pump into the 200 ul reservoir. The main chamber is composed of PDMS with a SiN window. This block is easily replaced avoiding the need to try and clean it between each run. Tubing of PTFE and silicone connect the sample block to the pump, which operates at a flow rate < 2 ul/min. As long as the analytic fluid does not enter the pump tubing, the pump can be reused. However, should the pump need replacement, this is easily done without the need to replace the entire pump housing.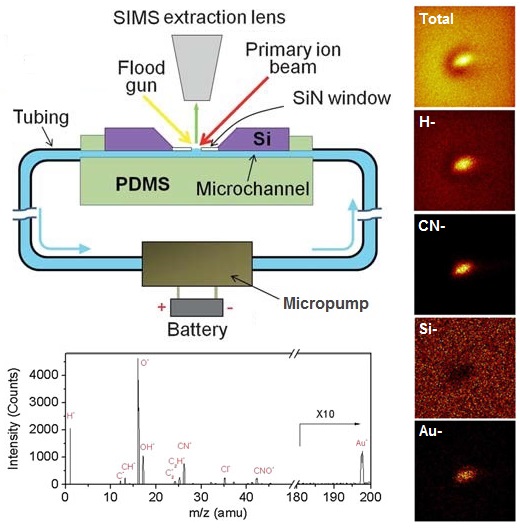 Wet Cell II Specifications:
Self-contained high vacuum compatible device
Battery driven pump for up to 4 hours operation
Microfluidic block for sample characterization
Electron transparent SiN membrane
200 ul reservoir
Flow rate < 2 µl / min
Low cost replaceable components allow containment free work.
Platform size: 3"x4" (75 x 100 mm). Height: 20 to 25 mm
Is it safe for my system?
The WetCell II system is designed as a self contained high vacuum compatible unit which can be used in SEM and TOF-SIMS systems. When using a SiN membrane window with an aperture of 3 µm, there is very little release of liquid into the chamber during operation, though there is likely some small amount of liquid that will escape. There is also some permeability of the tubing and block material containing the mounted SiN window.
The Wet Cell II system includes the complete device and is ready for use. It includes complete instructions as well as a replacement cell.