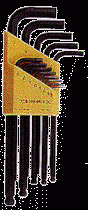 Wrenches
These handy wrenches are ideal for those hard-to-reach and hard-to see spots: Ball-point tips slip in easily and lock in place. Tightens and removes socket head screws where other tools can't.
Available in both inch (13 per pkg.) and millimeter (9 per pkg.) sizes.
Try them yourself and see how ballpoint wrenches save time, they spin faster and can reach blind locations with ease.
Angle entry to 25° to reach partially obstructed screws
Up to 5 times faster spinning and removal of screw
Inch and Metric sizes in a wide range for every screw size
Precision end on short arm for torque and leverage to remove stubborn screws
Ball end on long arm to aid blind entry and rapid turning of screw
Strongest available Protanium™ industrial quality steel
Patented Bondhex™ color coded cases keeps your tools together and make the right tool easy to find
Patented BONDHEX™ case locks keys in place. The twist and hold feature prevents tools from falling out and becoming lost.