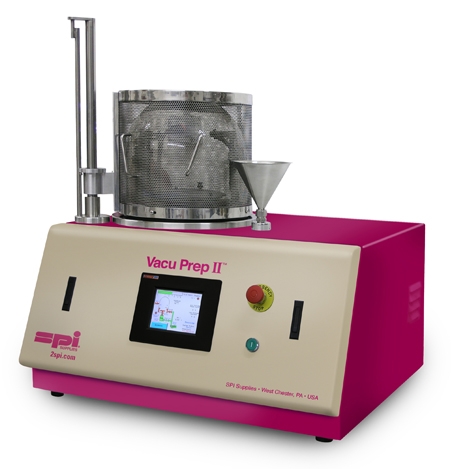 Vacu-Prep II
The SPI Supplies Vacu Prep II is a fast, clean, high vacuum bench top evaporator with simple automated operation for evaporation or sputtering. It utilizes solid state electronics to control the pump down, evaporation and venting sequences. Safe, reliable and easy to maintain, the Vacu Prep II can be used for routine carbon coating or the evaporation of various metals and materials. The interactive touch pad screen allows easy control of all systems. No need to remember if you opened or closed a valve, the screen allows you to monitor and run the system manually, or runs automatically to achieve the desired vacuum.
Typical Applications
Electron Microscopy Sample Preparation
High-Vacuum Carbon Coating for TEM and X-Ray Analysis
Resistance Evaporation of Metallic Compounds
Carbon Support Films
Carbon Platinum Replicas
Rotary Shadowing
Aperture Cleaning
Asbestos Analysis
Failure Analysis
With fast pump down times, the system can quickly achieve an ultimate base vacuum in the 10-7 torr range. The Vacu Prep II features a large base plate that can accommodate multiple feed throughs, fixturing, and applications.
The 12"dia. (30.5 cm) x 18"h (45.7cm) chamber provides ample space for evaporation and sputtering applications. A guide allows the bell jar to be raised and lowered with ease.