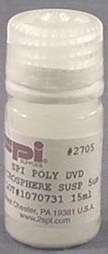 Calibrated Polystyrene DVB Microspheres in Suspension
SPI Supplies Calibrated Polystyrene DVB Microspheres are available for calibrating SEM, TEM, LM, confocal, and SPM instruments. Styrene and divinylbenzene (DVB) monomers polymerized in aqueous solution to form uniform spherical latex microspheres. In addition to electron microscopy, these uniform microspheres are ideal for applications in which solvent resistance or compression is needed. All products have been calibrated against NIST traceable standards.
Manufactured to a very narrow size distribution.
High level of inertness in the electron beam.
Aqueous suspension of 10% w/v.
NaN3 preservative <=0.1%.
Recommended storage 2–8oC.
Packaged as aqueous suspensions.
Items in Calibrated Polystyrene DVB Microspheres in Suspension