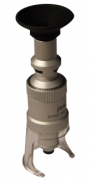 Stand Microscopes

The PEAK Stand Microscopes are small size, lightweight and conveniently portable microscopes, ideal for use in a wide variety of different industrial and academic settings. A scale is built into the chamber about the focusing ring.
Microscope dimensions without the optional light source: Size: 41.5 mm diameter x 122 mm height.
Available in four magnifications: 25X, 50X, 75X and 100X.
| SPI # | Mag | FoV | Min. Div | Range | WD | NA | FD | Wt gms |
| --- | --- | --- | --- | --- | --- | --- | --- | --- |
| 09754-AB | 25 x | 3.3 mm | 0.05/0.002" | 3.0 | 17.0 | 0.11 | 19.8 | 83 |
| 09764-AB | 50 x | 2.0 mm | 0.02/0.001" | 1.6 | 11.7 | 0.18 | 14.9 | 83 |
| 09755-AB | 75 x | 1.09 mm | 0.01/0.001" | 1.0 | 11.7 | 0.22 | 9.9 | 83 |
| 09756-AB | 100 x | 0.84 mm | 0.005/0.0005" | 0.8 | 11.6 | 0.22 | 9.9 | 88 |
Items in Stand Microscopes