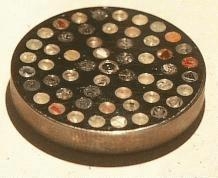 Metals / Minerals Standards
Production of Metal and Mineral Standards is currently on hold. We hope to be able to return to full production soon, but at this point we cannot provide lead times. Please feel free to contact us with your standards questions.
High quality Standards for Microanalysis are mandatory for any laboratory with EDS or WDS wanting to make certain of the calibration of their instrumentation. What used to be optional today is mandatory because of the proliferation of accreditation programs, and the demands of users of microanalysis laboratories to provide documentation that their equipment is operating according to instrumental specifications.
What is "quality" in a microanalysis standard?
This is often times thought to be, at least to some degree, "in the eyes of the beholder". However, it is generally recognized that a high quality set of standards must have not only good documentation and traceability of the standard materials being used, but they should be easy to use at the same time. The SPI Standards for Microanalysis have the highest homogeneity ever found in such standards and in addition, SPI gives the customer the chance to select between creating their own unique custom standard or as an alternative, selecting from one of a number of off-the-shelf standard products.
Minimum Size of the Standard Materials:
There is quite a variation between the largest and the smallest of the standard materials. In general, the standard items from the Charles M. Taylor standards collection are larger by perhaps 2X than the same standards that might be found in the SPI collection. Whereas the largest standards in the Taylor collection might be as large as 2 mm, for the SPI collection, that largest size is about 1 mm. Some of the minerals especially in the SPI collection, could be in individual grains substantially less then 1 mm, but a number of individual grains would always be found for each mineral. During a nearly twenty five year time frame that these standards have been offered, not a single customer has ever been unhappy about the minimum size of the individual grains.
Subcategories in Metals / Minerals Standards
Items in Metals / Minerals Standards