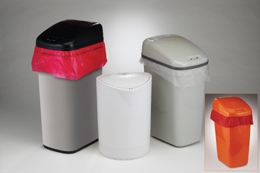 Laboratory Waste Can
The Scienceware® Touch Free™ Automatic Waste Can opens and closes automatically, protecting users from contact with the waste receptacle or its contents when disposing of waste of any kind-biological/biohazard materials, paper trash, or recyclables. When a hand or solid object is moved over the top, the Scienceware® Touch Free™ Automatic Waste Can detects the motion and opens the lid to accept waste. It then closes automatically. The lid drops into a fitted well that helps to reduce odor and airborne contamination.
Description of the Touch FreeT Automatic Waste Can The can is very robust and is designed for years of use. It operates on four Size D batteries (not included) and one can expect approximately 4,000 openings from one set of new batteries. An on-off switch deactivates the auto-open/close function saving battery life when the container is not needed for extended periods of time (such as vacation shut downs).
Available products:
Now available in four slim, modern designs: White 2.5 gallon; Gray 7.3 gallon with gray top; Stainless steel 12 gallon with black top and Orange 7. 3 gallon (usually reserved for biohazard waste). The 2.5 gallon model is perfect for benchtop use and includes a removable rigid liner that will not leak or rust.
Items in Laboratory Waste Can