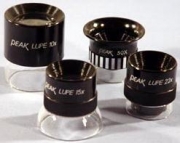 Fixed Focus Magnifiers (No Scale)
These well built magnifiers are available in the magnifications most often requested. Note that these are just magnifiers and one can not insert a reticle for making precise quantitative measurements. They are extremely handy not just around an EM or LM laboratory but also in electronics, plastics molding and extrusion, ceramics or any instance where one has concern about surface characteristics. There are no adjustments to be made, the fixed magnification remains fixed, no matter who might be the viewer.
The optical complexity increases with the magnification, therefore the lower the magnification the more simple (and lower is the cost). The 30X magnifier is a story all unto itself as it is a real precision designed piece of high quality optics.
These PEAK products use glass lenses exclusively for the highest quality optics, no plastic lenses.
Items in Fixed Focus Magnifiers (No Scale)