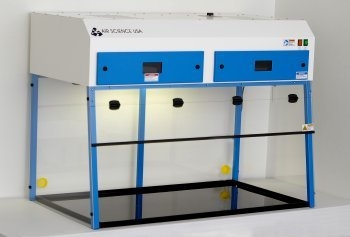 Ductless Fume Hoods
The SPI "EH" family of ductless portable hoods give the worker safety where the routine handling of hazardous and toxic chemicals is routinely done. All units operate at very low noise levels and because they recirculate they do not exhaust expensive conditioned and/or heated air into the outdoor atmosphere.
The "EH" family are all compact bench mounted units that can be safely used for small amounts of chemicals.
A face velocity of 100 FPM (ft/min) ensures containment of fumes and particulates for worker protection. An alarm will alert the worker when the airflow falls to an unacceptable level. The units can be placed on any bench top, and an optional polypropylene spillage tray can be provided when required. The rear of the unit has lighting to illuminate the work surface.
All mechanisms in the head section are on the clean side of the filter, with the switches and electrical components being isolated from any contamination.
The patented filter clamping mechanism allows for the filter to be easily installed and ensures an even seal at the filter face at all times to prevent bypass leakage.
For the main filter, one can select from 14 different types of carbon, which include special media for vapors of organics, solvents, acids, mercury and formaldehyde. HEPA filters for particulate filtration are also available to suit the application at hand.
Items in Ductless Fume Hoods