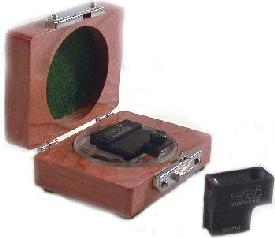 Diamond Knives
SPI Supplies has been offering to microscope users world wide our own diamond knife since 1980 and during this time, SPI has acquired the reputation for high quality, longevity, and yes, even integrity, for our entire line of diamond knife products. The SPI Supplies diamond knives are made in the USA using technology developed by Dupont ™ in Wilmington, Delaware.
What about the quality?
There are a lot of misunderstandings about the "quality" of a diamond knife. First and most important the diamonds selected for knife use are of "gem quality". It really does not make sense to use anything less than gem quality (e.g. free of inclusions and defects) because if the diamond was not of this quality, it would not be possible to polish down to a point where the edge would be completely free of fine striations.
Where differences can occur is in the polishing, which is where most of the value is added in the manufacturing. Diamond is a naturally made material and the physical characteristics of the natural diamond don't change depending on where the knife is polished. What does vary is the polishing process to get the "perfect" edge and that is where the USA technology gains the advantage over other technology.
What if I am not happy with my SPI Supplies Brand diamond knife?
If we said we never had any returns, that would be an untrue statement. But such returns are really few and far between. And when a customer is unhappy with their knife, since SPI unconditionally guarantees customer satisfaction with anything purchased from SPI Supplies, we will either replace the knife or knives altogether or refund any money already paid. We believe we are delivering real value to our customers with the SPI Supplies diamond knives but we want to always make sure that we at all times do it so that we also have happy customers.
Subcategories in Diamond Knives