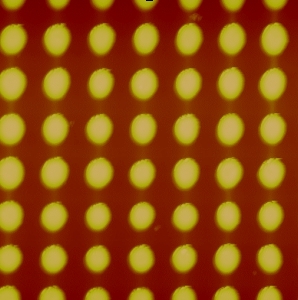 SPM / AFM
Accurate measurement requires accurate calibration and consistent accurate calibration requires standards checked and traceable back to the internationally recognized length scale (SI meter). Since the calibration of over time, accurate and reliable standards are essential for periodic calibration check and correction.
SPI Supplies traceable calibration specimens meet those needs at the nanometer scale. These specimens are useable with variety of measurement tools such as the Atomic Force and Scanning Electron Microscopes. These specimens are traceable to SI meter and come with a certificate stating both the means feature spacing (pitch) and the uncertainty of single pitch measurements.
Traceable Calibration is now available for the 301BE, 150-2D, 150-1D, and 70-1D specimens, as models 292 UTC, 150-2DUTC, 145 TC, and 70-1DUTC.
Our traceability path for 70-1DUTC is via NIST. Our traceability path for 150-2DUTC, 145TC and 292UTC is via PTB, the German counterpart of NIST. This is equivalent to NIST traceability, based on a mutual recognition agreement for nanoscale measurements among NIST, PTB, and other leading national measurement labs.
None available