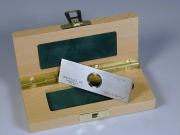 Stage Micrometers
These high quality stage micrometers are used for routine calibration of a variety of optical measuring instruments, from light microscopes and eye pieces to x-y stages and optical benches. The stage micrometer is actually used as a "specimen" in order to calibrate for example, an eye piece reticle. For the professional light microscope user or researcher, these are the ultimate calibration standards for their light microscopes.
The single most often asked question is: Are these calibration standards Certified?
The stage micrometers on this page are not traceable to NIST through an unbroken chain of accredited laboratories, which would be the requirement if an A2LA or other assessor was asking the question. They are however, being offered as being traceable to the National Physical Laboratory in the United Kingdom, which has a Memorandum of Understanding with NIST, by special order. This does seem to satisfy the demands of most assessors, but that becomes a decision by your own assessor, not by SPI Supplies or anyone else.
So the lowest cost form of the stage micrometer product line is just our own (e.g. Pyser-SGI) statement that the products have been checked against traceable standards. The next lowest cost form is the same identical product but with a Pyser-SGI self-certification document.
Subcategories in Stage Micrometers