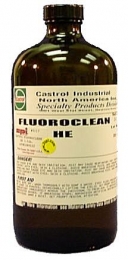 Castrol Fluoroclean HE Non-Flammable Solvent and Grease Remover
Castrol has discontinued this product!
We suggest that users of this product look at Castrol Brayco IC X-100 as a replacement product, or one of the other perfluorinated cleaning solvents that we offer.
Castrol® Fluoroclean™ HE is a high performance, environmentally friendly, non-flammable solvent. It is chemically inert, non-flammable, and very low in toxicity, and compatible with most metals, plastics, and elastomers. Castrol manufactures two perfluorinated solvents: Castrol® Fluoroclean™ X100 is recommended for use in grease plating applications and Castrol® Fluoroclean™ HE is recommended for use in cleaning perfluorinated oils and greases from surfaces.
Applications:
Castrol Fluoroclean™ HE is designed for use as a substitute for Freon® 113 (CFC-113) in the cleaning of perfluorinated lubricants and other halogenated lubricants including Castrol Braycote® 600EF, 601EF, 602EF, 603EF, 631, 631A, 640, 640AC, 802, 802RP, 803, 803RP, 803EP, 804, 805, 806, 806RP, 807, 807RP, 812, 815Z, 1613, 1616, 1624, 1625, 1632, 1636, 1721, 1722, 1723, 1724, 1728, 1729, Castrol Endurex® 1000 and 3100, and Castrol Microcote™ GS, LVP and 296.
Limitations:
Castrol Fluoroclean™ HE is not an effective solvent for mineral oil or silicone oil-based lubricants.
Packaging:
Castrol Fluoroclean™ HE is available in 3.5 lb., 14 lb. (one gallon) amber glass containers. Larger package sizes are available upon request.
Typical properties:
A detailed comparison between CFC-113 and Fluoroclean™ HE is available.
Note that CFC-113 is listed for comparison purposes only and has not in the past nor is it now a product of Castrol.