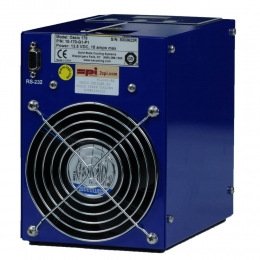 Oasis Chiller by Solid State Cooling Systems
The Smallest Recirculating Chiller on the Planet!


With a small footprint, this chiller is a good match for use with small wattage systems that require a reliable cooling source such as our Plasma Prep Reactive Ion Etcher, Plasma Prep X, and Plasma Prep Jr.. Available with a 160-190 Watt capacity, the Oasis delivers precise temperature control using ultra-reliable hermoelectric modules with lifetimes exceeding 200,000 hours. Oasis responds instantly to changes in load, holding to ± 0.1°C, even near ambient. Its universal, variable power supply only provides power when needed, making the unit very energy efficient. As the world's smallest, air-cooled recirculating chiller, Oasis fits easily inside your equipment or on your table top. And its standard RS232 interface for automatic temperature control makes Oasis simple to use.
Low-light CCD cameras
Diode lasers
OEM medical equipment
160 W to 190 W
Laboratory equipment
Microtiter plate temperature control
Point-of-use temperature control
| | |
| --- | --- |
| | |
SPECIFICATIONS
Operating Range
2 °C to 45 °C (160W / 180W models)
10 °C to 45 °C (170W / 190W models)
Ambient Temperature
10 °C to 40 °C non-condensing
Repeatability
± 0.1 °C (even near ambient)
Cooling Capacity
160W to 190W @ 20 °C (20 °C ambient)
Noise (at 1 meter)
<63 dBA
Coolant/Process Fluid
Koolance (27% propylene glycol/water
mix) or 27-50% ethylene glycol/water mix
Process Fluid Fittings
1/8" female CPC with shut-off valve
Pump
Magnetically-coupled gear pump with brushless DC motor
Tank Volume
75 ml with level sensor
(optional sealable cap)
Wetted Materials
Al and polymers, or Cu and polymers
Size (L x W x H)
7.5" x 5" x 7" (19 x 13 x 18 cm)
Weight
8 lbs (3.5 kg)
Power Input
Universal: 100 - 240 VAC, 50/60 Hz, 2.8A max
Power Consumption
Less than 200 Watts
Operating Voltage
13.5 VDC, 15 amps max (universal input,
laptop style power supply included)
Communications
Keypad or RS232 interface
Alarms
Temperature, fluid level, component or
system failure (display, RS232 and dry contact)
Standards
CE, TUV listed to CSA/UL 61010-1
Warranty
1 year